Microblading (Brow) Special $400.00 ($100.00 savings)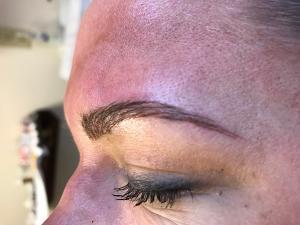 Microblading, also known as micro stroking, is a semi-permanent tattoo technique that is used to reshape, define and fill in gaps on the brows.
What are the benefits to microblading?
It is ideal for creating a full and realistic looking brow. Natural brow hair is not required as the individual strokes used for the procedure mimic that of your own hair.
It is a manual process done with a hand-held tool used to insert pigment in to the upper layers of the skin. The area is numbed before the procedure to minimize discomfort. Once the area is numbed, the brow is outlined to create the desired shape.
Book your appointment with our aesthetician, Tara.
"Tara is amazing! She does a wonderful job and you can tell that she loves what she does. I love the products and the atmosphere. I recommend going in and paying Tara a visit."

– Sarah K. (Google Review)

Interested? Fill out this form and we will reach out to schedule your appointment.

*SERVICES MUST BE PURCHASED BEFORE JUNE 30, 2017 AND CAN BE USED AT ANY TIME. OTHER RESTRICTIONS MAY APPLY.